Other information about Mantua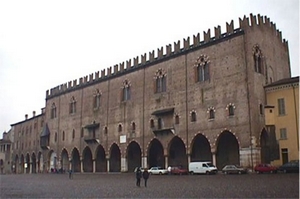 Transportation: Mantua lies across the Milan-Codogno-Cremona-Mantova. By car, it can be reached through the A4 (Milan-Venice) Highway to Verona, and from there Highway A22 (Brennero-Modena). Otherwise, through the State road 415 (Milan-Cremona) to Cremona, and from there State road 10 (Cremona-Mantova). The closest airport is Verona-Villafranca.

An annual survey of Legambiente (an ecologist movement of Italy) in 2005 declared Mantua the most liveable city of the country. The study was based on levels of pollution, quality of life, traffic of cars, and public transportation, among other criteria.

The body of Saint Longinus, twice recovered and lost, was asserted to have been found once more at Mantua in 1304, together with the Holy Sponge stained with Christ's blood.

In William Shakespeare's play Romeo and Juliet, Romeo spends his period of exile – his punishment for killing Tybalt – in Mantua. Also, in his play Taming of the Shrew, the schoolmaster who pretends to be Lucentio's father, Vincentio, is from this city.

Giuseppe Verdi's opera Rigoletto (Based on Victor Hugo's play Le roi s'amuse) is set in Mantua. Austro-Hungarian authorities in Venice forced him to move the action from France to Mantua.

Since 1997 Mantua has hosted the Festivaletteratura, one of the most renowned literary events in Europe.

In 2007 the remains of two people were discovered during the construction of a factory. The remains are thought to be between 5,000 and 6,000 years old. It is speculated that the remains are of two young lovers because the two skeletons appear to be embracing.

Mantua and Sabbioneta were inscribed on the UNESCO World Heritage List in 2008.